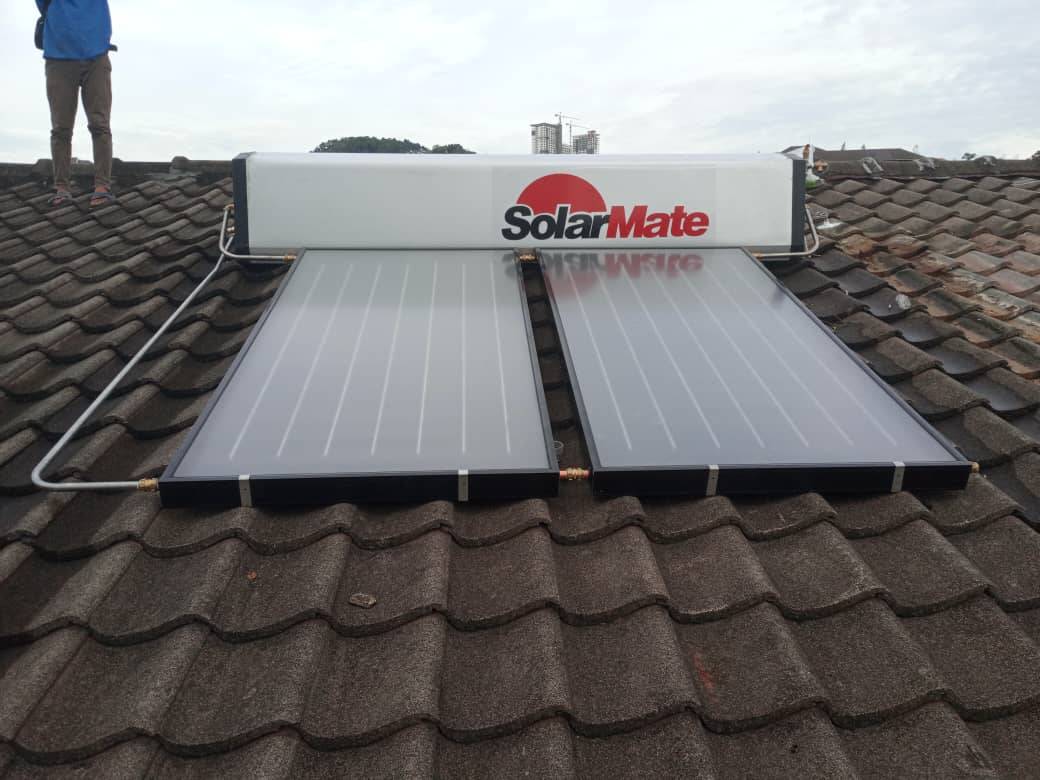 Flat plate solar panels are a cost-effective method of converting solar radiation into heat to keep your home's solar hot water system warm.
As the name implies, flat plate solar water heaters are flat panels that are mounted on roofs or flat surfaces.
The collectors are thin but have a large surface area to absorb as much heat as possible.
This piece of equipment is one that no Malaysian household should miss out on.
To arm you with more reasons why you should go for a flat plate solar water heater, we have gathered a list of their benefits.
1. Reduced Carbon Footprint
At a time when countries are brainstorming innovations and making stringent efforts to cut their carbon footprints, installing flat plate solar collectors is a viable way to contribute immensely to this cause.
Even the Malaysian government is putting in a huge effort to drastically curtail environmental impact.
Flat plate solar panels do not use fossil fuels or non-renewable energy sources to generate heat.
Rather, their approaches are environmentally friendly.
They utilise renewable solar radiation, thereby minimising your carbon footprint and making the environment more inhabitable in the long run.
2. Constant Hot Water
With a flat plate solar water heater, you will have hot water available to you year-round.
What makes this more promising is that Malaysia is a Southeast Asian country located at the equator.
It gets regular and a good amount of sunlight, which flat solar panels need to generate heat and keep the water in your home warm and available for use.
If you install the flat plate solar water heater in your building, you will be able to get hot water whenever you need it.
3. Good Positioning
With the flat surface of this solar water heater, no special positioning is required during installation to ensure it absorbs solar radiation.
The panels are fixed in slant positioning, enabling the flat surface area to receive direct sunlight without tracking the sun.
4. Low Maintenance Costs
Unlike water heaters that utilise fossil fuels to generate heat, flat plate solar water heaters require comparatively low maintenance costs.
This feature is among those that make this equipment a cost-effective way to generate electricity.
Be it an industrial water heater or a commercial water heater, they are cheap to maintain.
5. Cheap
Flat plate solar water heaters in Malaysia are affordable to own. Some government initiatives have been put in place to subsidise the cost of this solar water heater, allowing many households to have one.
The installation cost is cheap, too.
6. Long Lifespan
This solar water heater has a long operating life. It can collect heat for your buildings' water system for many years.
It has durable body components, which, combined with the high maintenance rate, ensures that it operates for as long as possible.
7. Less Space
Unlike photovoltaic solar panels, flat plate solar panels take up less space.
This makes them easy to install on any flat surface in your home exposed to sunlight.
Because they are not space-intensive, they leave room for any other installations you may need.
8. Increased Efficiency
Flat solar panels are effective solar water heaters because they absorb direct, reflected, or diffused solar radiation to generate heat energy.
About 80 per cent of the sun's radiation is absorbed and converted into energy to obtain hot water.
9. Zero Overheating Issues
Flat plate solar water heaters do not overheat during summer.
They come with a modulating collector that ensures that they do not overheat and develop maintenance issues.
This means that during the long summer days, you can generate heat energy without trouble.
10. Corrosion Resistant
If you are looking for solar panels that are corrosion resistant, flat plate solar water heaters are a good option.
11. Reduced Energy Bills
One of the causes of high utility bills in Malaysia is heating water.
Flat solar panels do not consume fossil fuels or electricity to generate energy to heat water.
With direct sunlight, flat solar panels generate heat energy and hugely reduce your energy bills.
Final Takeaways
Whether you are looking for a residential or commercial water heater, a flat plate solar water heater is a good heating solution.
It brings you constant hot water, reduces energy bills and carbon footprint, and requires only easy maintenance.
For those who live in Malaysia, a Southeast Asian country that gets regular and a good amount of sunlight, there are more reasons to install one and enjoy the immense benefits.
For more information, feel free to get in touch with us.