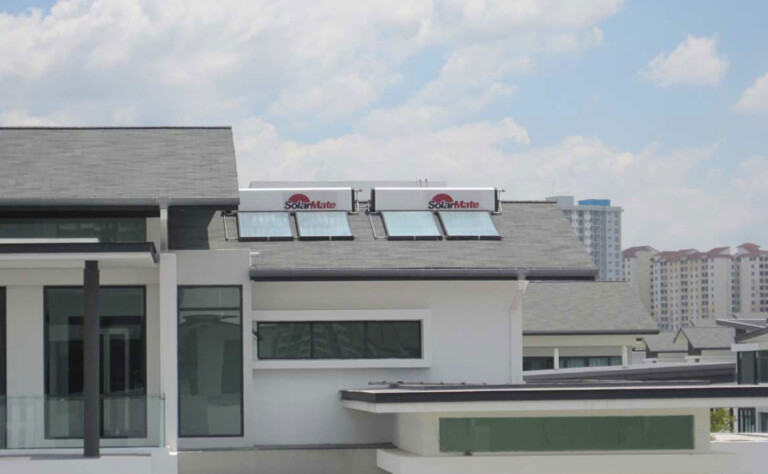 If you are considering using a solar heater as your home water-heating source, a question that must have been bothering you is whether your home is suitable for solar heater installation.
To determine the answer to this question, first, assess whether there is enough sunlight in your area. Ensure that there are no surrounding tall trees and buildings to prevent sunlight from reaching your home.
However, there are other factors to consider before you determine if your location is suitable for solar heater installation.

How to Know if Your Household Location is Suitable to Install a Solar Water Heater or Not?
1. How Much Sunlight Does Your Roof Receive?
To determine if your household location is a good spot for solar water heater installation, observe if sufficient sunlight gets to the roof of your house. Solar water heaters need sunlight to work and as such need to get as much sunlight as possible.
If there is a part of the house where sunlight shines the most, it is recommended to install the solar water heater there.
2. What is the Condition of the Roof?
Before you purchase solar panels, you should assess the condition and quality of your roof. Solar panels have weight, colour, which, when added to a roof in poor condition, can cause damage to it. The likelihood of damage increases if many panels are installed together.
Strong roofs are not susceptible to damage. Roofs such as asphalt shingle or composite are built to stand the test of time. If you have one of these types of roofs, you should consider going for solar panel installation.
3. What is the Local Climate in Your Area Like?
Solar energy heaters are not suitable for places without sunny climates. Because solar panels depend on solar energy for power, they need to be exposed to sunlight as much as possible. You will not get the most out of your solar water heater if it is installed at a rainy area.
If you are installing the solar panel in an area with harsh weather conditions, check the durability. A solar water heater installation expert will help you determine if your local climate is agreeable to solar panels.
4. Quality of Installation
It is crucial to employ the services of a reputable solar panel installation company to install a solar water heating system in your household. Ensure that they have been in the business for years, have well-trained panel installation engineers and customer testimonials.
You do not want to employ the services of a sub-par company and pour your money down the drain. Installers should be able to perform free assessments of your home to ensure that it is suitable for solar heater installation.
5. Time of Installation
The time of the installation of solar water heaters is one of the factors to consider before installation. House tenants should ask themselves how long they want to remain in the house. If they intend to remain there for a long time, then solar water heater installation will prove to be a good investment.
Generally, house tenants who are planning to move often should look for an alternative source of energy to save money. If a homeowner intends to move soon, solar panels can still be installed as they increase the value of the property.
6. What is Your Household Energy Usage?
Knowing how much energy you consume is a good step to knowing if your household needs a solar water heater. In some areas, energy costs are inexpensive. In such places, there is no need to install solar water heaters, as it does not make significant differences to the energy bills.
However, there are places where energy bills cost an arm and a leg. If your household is located in such an area, then you need solar energy. This is because powering a solar panel does not require fossil fuels. Ensure that the system will be able to handle an increase in usage.
In a Nutshell
In Malaysia, having a solar heater is a good investment. Nevertheless, homeowners will want to be assured that their homes are built for this alternative source of energy.
Whether it is a commercial solar water heater or a home solar water heater, the tips discussed above will help you make your decision. Start the New Year on the right note and make it an energy-saving one.